Chick-fil-a is in the hot seat again — this time for the treatment of two Asian customers in Southern California.
Last week, Angry Asian Man reported on a resident adviser from UC Irvine who sent around this photo to a few of his friends: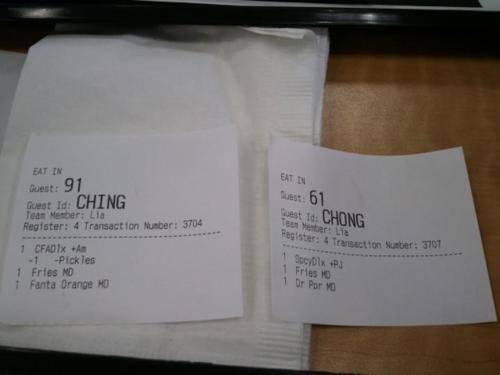 Apparently, he had taken two of his students to a local Chick-fil-A and received receipts labeled with the names "Ching" and "Chong" — despite the fact that they had never been asked their names. Kelvin Lee, another UC Irvine student, ended up blogging about the incident on Tumblr. He quotes his RA friend:

I went to talk to the manager, and I told him that this cannot happen ever again. I chose to be calm about it, but I was ready to go off. I made it known that it wasn't okay, and that I didn't appreciate it whatsoever. I think I indirectly fired Lia…


"Lia," the Chick-fil-A cashier who entered the offending names, was indeed dismissed. The chain restaurant provided an official statement on the matter to Grub Street LA:
Please understand and accept our confirmation that the inappropriate, and unthinking behavior of a young team member at one of our restaurants does not support any claim or even suggestion of racism at our restaurant. The individual clearly violated our operating standards; the matter was addressed and discussed immediately with the guests on the spot; and a confirmation was provided that the employee was immediately dismissed for the individual behavior.

Our Chick-fil-A restaurant Operators and their employees try very hard every day to actually go the extra mile in serving ALL of our customers with honor, dignity and respect. The circumstances here are a simply case of immaturity, failed judgment, and human error… it has nothing to do with the service and operational standards of our Chick-fil-A restaurants which are consistently rated at the highest level of service in the foodservice industry.
A day later, Lee took to his blog again, this time in reaction to the inflammatory comments from his original post. In an entry tagged, "tired of the hate," he defended both the franchise and the manager who had hired Lia:

I realize Chik-Fil-A hasn't exactly had the best track record when it comes to issues of social justice, but I don't think the horrible mistake on the part of one individual is reason enough to launch a witch hunt. There's no way the person who hired this woman would have been able to know she'd do something so stupid.


Chick-fil-A is no stranger to controversy. When a Hollywood branch opened in September of this year, they were greeted by protesters who were angry about the chain's support of anti-gay groups like Focus on the Family and the Fellowship of Christian Athletes, according to Hollywood Patch. The faith-based corporation, which is known for closing restaurants on Sundays and starting each workday with a prayer, has been accused of homphobia because of their ties to anti-gay marriage groups.
Watch CBS2′s video report on the incident and click here for their story: