Originally published on Youthradio.org, the premier source for youth generated news throughout the globe.
By Zachary Valdez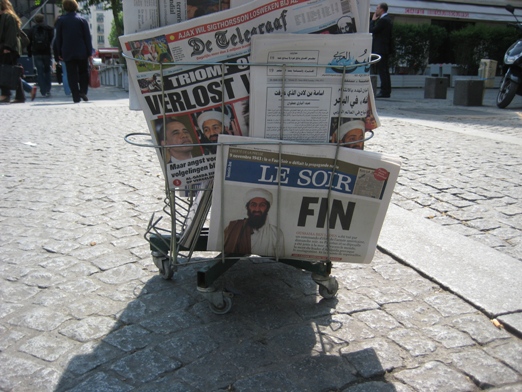 Early Monday morning the news of Osama Bin Laden's death arrived here in Paris, along with the reactions of a rejoicing America — scenes of celebration in D.C. and New York. But the jubilation in the United States, for American university students like me, raises the difficult question of how to react to the news on foreign soil: what is the appropriate response?
Like many Parisians, I learned of Bin Laden's death on the radio Monday morning. Like many Americans, the remainder of the day was filled with bizarre moments of disbelief.
After a final exam where our professor made no mention of the news, I met with other American students to mull over the events.
Instead of a reaction to the death of Bin Laden, we were reacting to those initial images captured in D.C. and New York. One student even described her shock seeing video of baseball fans who burst into chanting "U-S-A!" at a game Sunday, presumably after hearing the President's address.
Another student mused about how he would have expected his response to be much stronger when this day, the death of Bin Laden, finally came. Instead, he feels that any celebration is almost certainly in vain, since there will undoubtedly be a new head to Al Qaeda.
In fact, if the American students in Paris are not celebrating, it is perhaps because we are a world away from the US, unsure of how to react with our anchors back home — the people we spoke to, the media we consulted — now temporarily absent.
Maybe for us it is still too early to understand the events of May 1st, 2011, just as it was in the days immediately following the events of September 11th, 2001. Maybe it is too early because it is not yet the end.
May 2nd, though, was simply another spring day in the capital city. There is no visible celebration here either, and even the popular restaurant Breakfast in America, run by ex-patriots, avoids any overzealous campaign on their posted menu (no Osama burgers found here).
Regardless, one can still find that old French spirit of American criticism as of today. A Bin Laden calling from beyond the grave joked on the radio this morning that the Americans deny global warming, and they don't bother to recycle, so what other option did they have than to dump me into the ocean? "Bin Laden" added, they won't keep me from converting some fish while I'm down there.
The show hosts laughed, heartily.
Also from Youth Radio/Youth Media International (YMI):
* Silver Bullets In Education Cannot Fix Everything
* Life After Dropping Out of College
* Community Split Over Whether Gang Injunctions Are A Youth Issue